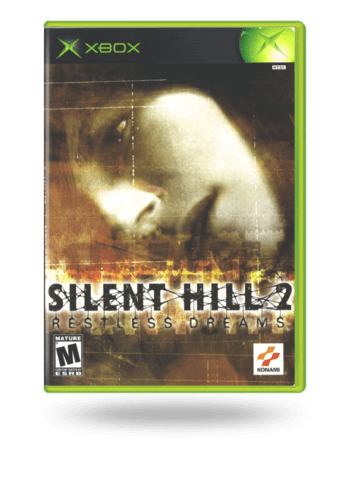 Désolé, en rupture de stock :(
Vous voulez ce jeu ? Nous pouvons vous informer par e-mail lorsque le produit sera nouveau disponible.
Notification
Commentaires: 0
Description du produit
Silent Hill 2 Xbox CD
Critics and gamers alike have received the game with welcoming hands and gave it a positive rating for a reason. When speaking about Horror games, Silent Hill 2 CD on Xbox is one of the first video games that should pop up as it boasts engrossing gameplay followed by memorable experiences and unforgettable moments. Developed by teams from Team Silent and published by a renowned company Konami on 2001-09-24, the game holds up to the standards of noteworthy video games. A set of gameplay features introduce novelty to the genre that already is already brimming with titles, and you are in for a ride with this one! Buy Silent Hill 2 Xbox CD cheaper today!
Horror genre
Looking for something uncanny? Can't find it in books nor movies? Want to not only observe but immerse yourself into an unknown world? The horror game Silent Hill 2 Xbox CD is here to save you. It will give you everything you need to scare yourself: surprises, mystery, darkness, tension and pressure. See if you have that survival instinct and test your reflexes from the comfort of your own room. Can you stay calm as the spookiness around you poses various threats? Can you react to them quickly and appropriately? Test yourself out!
Features
Plenty of hours of fun await you with Silent Hill 2 CD! These innovative gameplay features will keep you coming back for more:
• Survival horror - Players fight against all odds to survive in a world filled with atrocious abominations hellbent on killing them on sight.
• Action-adventure - Players have to clash with enemies and solve puzzles along the way as they explore various locations.
• Atmospheric setting - The immersive world is accompanied by stunning visuals, charming soundtrack, and fluid gameplay mechanics.
• Dark setting - Players explore a gritty, awful world that revolves around mature themes not meant for kids.
• Great soundtrack - The gameplay is accompanied by a soundtrack that echoes all the ups and downs happening in the game.
• Violent - Contains various depictions of torture, injuries, and gruesome deaths.
• Gore - The game contains graphic depictions of blood, injuries, decapitated limbs, and more.
• Exploration - This title emphasizes traversing undiscovered locations and unearthing hidden secrets.
• Story-rich - Besides immersive gameplay and stunning graphics, this title includes an engaging narrative.
• Singleplayer - The game features a solo campaign with a story.