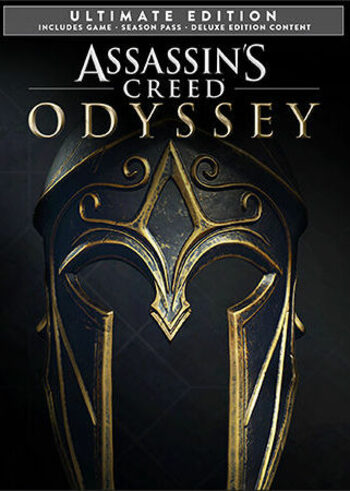 Assassin's Creed: Odyssey (Ultimate Edition) (PC) Green Gift Key EUROPE
Partagez avec quelqu'un qui aimerait cela !
Copié dans le presse-papier!
EuropeNe peut pas être activé dans

États-Unis d'Amérique

Vérifier les

Clé numérique

Il s'agit d'une édition numérique du produit (CD-KEY)

Livraison instantanée
Avis important:
To redeem a code, visit: https://www.greenmangaming.com/gift-redemption. Upon activation, you will receive the game on your Ubisoft Connect account. Make sure to follow the instructions on how to redeem the key!
Les joueurs ont également consulté
Commentaires: 0
Description du produit
Assassin's Creed: Odyssey (Ultimate Edition)
This edition includes:

• Assassin's Creed Odyssey base game;
• Temporary XP and Drachma (in-game currency) boosts;
• Kronos Gear Pack, Herald Gear Pack, Capricornus Naval Pack;
• "Legacy of the First Blade" DLC;
• "The Fate of Atlantis" DLC;
• Assassin's Creed 3 and Assassin's Creed Liberation.
Assassin's Creed: Odyssey is the eleventh major instalment in the Assassin Creed series. It's an action RPG developed by Ubisoft. This time travel to Ancient Greece, Year 431 BCE, and witness the great fictional war between its city-states, Athens and Sparta. Take your part in this war as a merciless mercenary and fight for either side to unite your family and dissolve the cult that has spread throughout Greece!
Now That's An RPG!
Immerse in one of the most story-focused series yet! Choose your options when in dialogue, complete vastly branching quests, and witness multiple-end scenarios as all you've done throughout the game matters greatly!
Who Are You?
In Assassin's Creed: Odyssey you are playing either as Alexios, or Kassandra, the direct descendants of King Leonidas. Control either of the two and choose your playstyle, as the new skill tree system will allow you to pick from one of the three branches:
• Be a Hunter and focus your skill on archery and fight your enemies from afar.
• If you want a more direct approach where you deal with your foe face-to-face, choose Warrior type.
• If you are a fan of shadows, and causing a ruckus is just not your thing — Assassin tree.
Sail Through the Blood!
Get your Assassin's Creed: Odyssey key and sail the sea again, with the return of Naval Combat! You'll have access to various Hellenistic-era warships to sail through the Aegean Sea. However, sailing won't be a pleasing and relaxing activity, as grandiose battles between hostile fractions will emerge with the slightest change of wind.
Configuration requise
Configuration système minimale
Configuration système

Windows 7 SP1, Windows 8.1, Windows 10 (64-bit)

Processeur

AMD FX 6300 @ 3.8 GHz, Ryzen 3 – 1200, Intel Core i5 2400 @ 3.1 GHz

Mémoire

8GB

Graphique

AMD Radeon R9 285 or NVIDIA GeForce GTX 660 (2GB VRAM Shader Model 5.0)

Stockage

46GB
Configuration système recommandée
Configuration système

Windows 7 SP1, Windows 8.1, Windows 10 (64-bit)

Processeur

AMD FX-8350 @ 4.0 GHz, Ryzen 5 - 1400, Intel Core i7-3770 @ 3.5 GHz

Mémoire

8GB

Graphique

AMD Radeon R9 290 or NVIDIA GeForce GTX 970 (4GB VRAM or more Shader Model 5.0)

Stockage

46GB
Autres détails
Langues

Allemand

Anglais

Espagnol, Castillan

Français

Italien

Polonais

Date de sortie

2 octobre 2018

Éditeur

Ubisoft

Développeurs

Ubisoft

Fonctionne sur