METAL SLUG XX PlayStation 4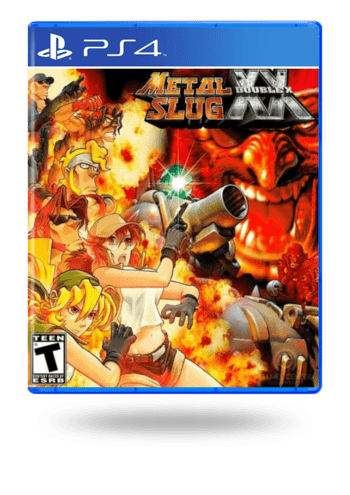 Désolé, en rupture de stock :(
Vous voulez ce jeu ? Nous pouvons vous informer par e-mail lorsque le produit sera nouveau disponible.
Notification
Commentaires: 0
Description du produit
METAL SLUG XX PlayStation 4 CD
Freshen up your library of games with another remarkable title of Action genre, where experience exceeds all expectations! You simply can't miss out on with a decision to buy METAL SLUG XX CD! Developed by Noise Factory and brought to you by SNK CORPORATION, this physical game available on PlayStation 4 presents entertainment of a grand scale, smoothly intertwining classic and innovative gameplay features to deliver an unforgettable Action experience! Buy METAL SLUG XX PlayStation 4 CD and be prepared for hours of gameplay that puts your skills on trial! Are you ready for the vibrant and rewarding experience that awaits you?
Action genre
METAL SLUG XX PlayStation 4 CD is an action game, meaning it's for those who are passionate about quick movement and multi-tasking. The storyline won't be complicated, but the gameplay will definitely require some training and skills. You'll need to attack your enemies while protecting your own life from any potential threat. This hectic game will keep you focused for more than you could imagine, and once you ace it, it will feel rewarding. Get close to that sense of achievement while having loads of fun!
Features
METAL SLUG XX CD offers an abundance of interesting gameplay features for the best experience possible! Here's what you enjoy by buying this title:
• Arcade - This title focuses on beating colourful levels which get more difficult every time you get better.
• Retro/pixel graphics - Similar to old school SEGA games - utilizes visuals and models crafted with pixels.
• 2D graphics - The world consists of two-dimensional visuals and models, and cannot be viewed from other angles.
• Shooter - Players are tasked with collecting various powerful guns and spotting and eliminating threats.
• Side-scroller - You see environments and characters from one side and can only move to the right or left.
• Platformer - You dash, glide and jump around in order to traverse various environments.
• Difficult - The gameplay mechanics are hard to learn by default and it takes a lot of time to master them.
• Singleplayer - The game features a solo campaign with a story.
• Local co-op - This feature allows you to do missions with a friend on the same machine without the need for an internet connection.
• Local multiplayer - This feature allows multiple people to participate in the same matches either via split-screen or the same network connection.