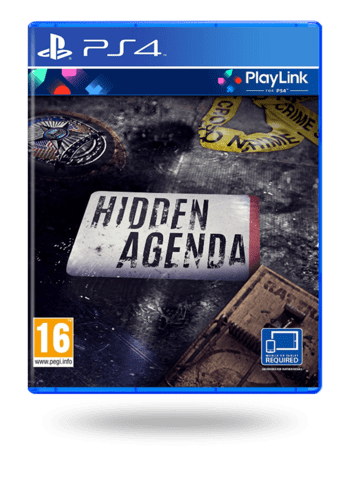 Désolé, en rupture de stock :(
Vous voulez ce jeu ? Nous pouvons vous informer par e-mail lorsque le produit sera nouveau disponible.
Notification
Blu-ray

Ceci est une édition physique du produit ( Blu-ray )
Commentaires: 0
Description du produit
Hidden Agenda PlayStation 4 CD
Video games serve as a window for us to take flight into fictional worlds where we can interact with things and participate in gameplay as active participants, and Hidden Agenda CD on PlayStation 4 takes it on another level! 2017-10-23 marks the day when the united effort of developers from Supermassive Games and Sony Interactive Entertainment saw the light of day! With a fresh take on what makes Action-adventure games such an electrifying experience, the title invites you to step into the world of action-packed gameplay! Buy Hidden Agenda PlayStation 4 CD for a cheap price, because you're getting no mere product - you're investing in a memorable experience!
Action-adventure genre
Were you endowed with great talents but have no space to test them? Well, good news, because now you can see how skilled you are in Hidden Agenda PlayStation 4 CD. Since it's an action-adventure game, it'll test a whole bunch of skills: reaction time, reflexes, hand-eye coordination, critical thinking, problem-solving and many more. Blend all of these and achieve victories all throughout the game. It's exciting and rewarding. Do you think you can do this? Hop right in and try yourself out!
Features
Not sure what to expect from Hidden Agenda CD? Take a look at all these features this title includes:
• Third-person view - Players view the world and their surroundings from a camera angle positioned behind the controllable character.
• Psychological - The game focuses on atmospheric horror, tension, and getting a reaction out of players in subtle ways by testing their psyche.
• Investigation - The gameplay includes searching for and gathering clues and valuable information.
• Drama - The story emphasizes well-written characters, the actions they take, and interpersonal conflicts.
• Quick time events - You have to rapidly complete the prompts shown on the screen during cutscenes or it's game over.
• Atmospheric setting - The game combines an amazing score with breathtaking visuals for an immersive experience.
• Choices matter - The world is shaped by the player's actions made throughout the game.
• Local multiplayer - You can participate in online matches with other players on the same network connection as you or via split-screen.
• Story-driven - The game heavily focuses on presenting a compelling story above everything else.
• Crime - Players explore the ins and outs of the criminal underworld.
• Detective - You have to search for clues and solve various mysteries.
• Competitive - This title pits you against other evenly-matched opponents in fast-paced matches and challenges you to improve.