Hasbro Family Fun Pack Xbox One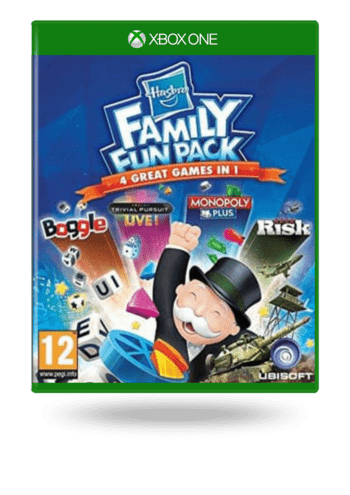 Désolé, en rupture de stock :(
Vous voulez ce jeu ? Nous pouvons vous informer par e-mail lorsque le produit sera nouveau disponible.
Notification
Blu-ray

Ceci est une édition physique du produit ( Blu-ray )
Commentaires: 0
Description du produit
Hasbro Family Fun Pack Xbox One CD
Well-received by critics and gaming enthusiasts, Hasbro Family Fun Pack CD, available on Xbox One, delivers a unique perspective on arcade experience which is enhanced by immersive gameplay and its premise! Developed by Ubisoft and published by a well-known Ubisoft Entertainment gaming company on 2015-10-20, the physical title presents a unique mix of gameplay features that retain original characteristics of Arcade games and introduces innovation. Buy Hasbro Family Fun Pack Xbox One CD at a cheap price and hop into a game that redefines the gaming experience in the most brilliant way! Are you ready to take on the challenge?
Arcade genre
Make your way through colourful levels accompanied by energetic music that is bound to get your blood pumping with Hasbro Family Fun Pack Xbox One CD! Will you successfully eliminate every enemy barrelling towards you, avoid every single deadly trap and masterfully bypass various obstacles meant to stop you in your tracks? You'll only find out once you get your hands on this title, an embodiment of the best elements of the arcade genre. While you're bound to spend countless hours of fun, this game will prove to be quite a challenge as well. With every completed level, everything gets progressively harder, so you'll have to rely on your skills to get the highest score!
Features
Experience the magic with Hasbro Family Fun Pack CD! Check out these features that improve the overall gameplay:
• Singleplayer - The game includes a story campaign meant for solo players.
• Full controller support - The game can be played entirely with a controller without a keyboard or a mouse.
• Funny - This title emphasizes fun via intentionally humorous design and story choices.
• Difficult - The gameplay is intentionally designed to be hard from the start to challenge players.
• Online multiplayer - You can play with other players in online matches via the internet.
• Puzzles - The title tests your problem-solving skills by having you successfully complete every puzzle.
• Trading - The game allows you to trade certain assets of the game with others.
• Party game - The game supports local play and up to several people at once.
• Up to 4 players simultaneously - You can do missions with 3 other players.
• Family-friendly - Is appropriate for players of all ages.