Big Buck Hunter Arcade Nintendo Switch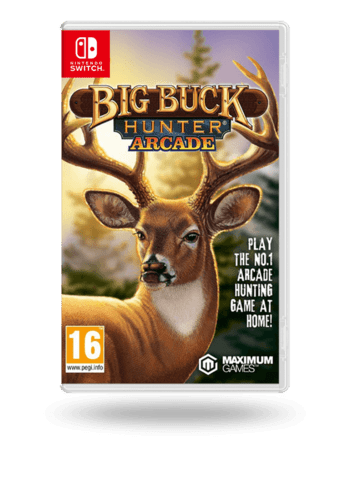 Désolé, en rupture de stock :(
Vous voulez ce jeu ? Nous pouvons vous informer par e-mail lorsque le produit sera nouveau disponible.
Notification
Carte

Ceci est une édition physique du produit ( Carte )
Commentaires: 0
Description du produit
Big Buck Hunter Arcade Nintendo Switch CD
Looking for a game that will grip you so much you won't want to turn it off for hours and hours? Well, you found the right one! Big Buck Hunter Arcade CD on Nintendo Switch is exactly what you're looking for with its characters and gameplay worthy of every minute and every effort. 2016-10-25 marks the day the game came out, developed by the capable Game Mechanic Studios and published by globally acclaimed gaming studio - GameMill Entertainment. Buy Big Buck Hunter Arcade Nintendo Switch CD, save your funds with a great price, and put your abilities on trial to see if you're good enough to call yourself a master of Arcade video games!
Arcade genre
Brace yourself for hours upon hours of entertaining gameplay with Big Buck Hunter Arcade Nintendo Switch CD! Since it's part of the arcade genre, you can expect fast-paced action that puts your reaction and hand-eye coordination to the test. Can you beat a seemingly endless sequence of levels that become harder and harder the farther and better you get? Find out by diving into the colourful environments accompanied by lively music that will get your blood pumping to get better, faster, and stronger! Master the intuitive controls, successfully clear every challenge thrown at you and stay alive for as long as you can!
Features
Big Buck Hunter Arcade CD boasts many gameplay elements that will keep you glued to the screen for hours! Here are some of the main features you get to enjoy:
• Action - This title emphasizes overcoming physical challenges and tests player hand-eye coordination and reaction-time.
• Shooter - Players collect various guns and use them to blast their enemies to bits.
• Hunting - You can encounter and kill vicious predators by tracking them down.
• Simulator - You can play around in virtual reality without any real-life consequences.
• Singleplayer - The game includes a story campaign meant for solo players.
• Split-screen - Compete against your friends in the same room on a single machine.
• Local multiplayer - This feature allows multiple people to participate in the same matches either via split-screen or the same network connection.
• Partial controller support - Some parts require players to use something other than the controller.