Beyond Good & Evil Xbox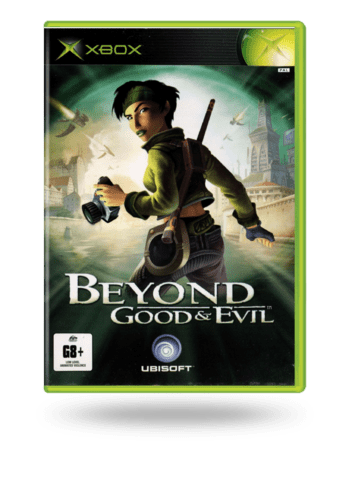 Désolé, en rupture de stock :(
Vous voulez ce jeu ? Nous pouvons vous informer par e-mail lorsque le produit sera nouveau disponible.
Notification
Commentaires: 0
Description du produit
Beyond Good & Evil Xbox CD
If you want to experience the best of Action-adventure gaming, then Beyond Good & Evil CD on Xbox is one of the titles that should appear in your library of owned games! Electrifying gameplay and a set of features to leave players with everlasting memories are guaranteed. After all, the game is developed by Ubisoft and brought to you on 2003-11-11 by Ubisoft Entertainment, so it's all about high quality. Buy Beyond Good & Evil Xbox CD at a great price and you will sign up for a rewarding experience that broadens your horizons in the gaming world of entertainment!
Action-adventure genre
Try yourself out in a mix of elements from both action and adventure game genres. Beyond Good & Evil Xbox CD can provide you with a compelling storyline in which you'll have to face physical and conceptual challenges. You'll be required to react and move fast in an intense combat as well as think strategically and critically while solving puzzles. The game's a great boost for those who have mastered the skills of the individual game genres and want to test the mix of them altogether. It also fits those who simply want to develop these skills. After all, who doesn't like a good challenge?
Features
Beyond Good & Evil CD boasts many features and innovations that improve the overall gameplay. Let's take a look at everything you should know about this title:
• Singleplayer - The game features a solo campaign with a story.
• Atmospheric setting - The immersive world is accompanied by stunning visuals, charming soundtrack, and fluid gameplay mechanics.
• Great soundtrack - Every beat of the music is perfectly synced-up with everything you do in the game.
• Story-rich - The game heavily focuses on building a well-crafted narrative above everything else.
• Open world - Players are free to explore the vast environment full of various locations, hidden secrets, and more.
• Sci-fi setting - Players enter the technologically advanced future of humanity full of gadgets, space travel, and more.
• Exploration - This title emphasizes traversing undiscovered locations and unearthing hidden secrets.
• Stealth - You have to distract foes, use disguises, and hide to avoid alerting enemies throughout the game.
• Action - This title emphasizes overcoming physical challenges and tests player hand-eye coordination and reaction-time.
• Dystopian setting - Players dive into the gritty, grim, and sinister universe where not everyone can be trusted.