Celebrity Cruises Gift Card 250 USD Key UNITED STATES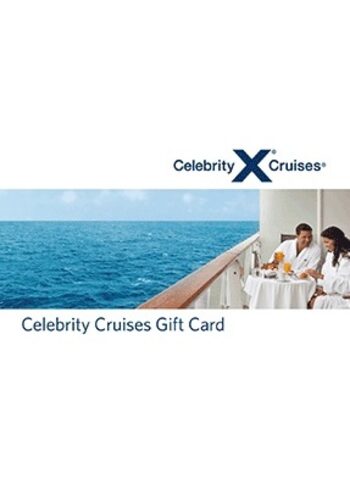 Celebrity Cruises Gift Card 250 USD Key UNITED STATES
Ibahagi sa tao na maaaring magustuhan ito!
Pinakamurang alok
Ang presyo ay hindi pa pinal
Buy as a gift
Receive this product as a gift PDF.
Looking for good deals?
Get them delivered to your inbox
Available at checkout:
Estados UnidosHindi maging aktibo sa

Estados Unidos ng Amerika

Digital na susi

Ito ay isang dihital na edisyon ng produkto (CD-KEY)

Instant na paghahatid
Mga Mahalagang Paunawa:
No expiration date. Code is valid only in the United States.
Tiningnan din ng mga manlalaro
Paglalarawan ng produkto
Celebrity Cruises Gift Card 250 USD UNITED STATES
Welcome to the world of endless possibilities and extraordinary experiences with the Celebrity Cruises gift card. Prepare to embark on a journey like no other, where turquoise waters, pristine beaches, and exciting destinations await your arrival. With the Celebrity Cruises gift card key in hand, you can set sail on one of Carnival's luxurious ships, designed to offer you the ultimate vacation experience. Indulge in the epitome of comfort and relaxation with Celebrity Cruises 250 USD gift card key. Your floating paradise awaits, offering spacious and beautifully appointed accommodations, delicious meals, and a plethora of activities. Forget your tiring daily routine and embrace luxury and comfort with Celebrity Cruises gift card!
What can I use the Celebrity Cruises gift card for?
The Celebrity Cruises gift card opens up a world of possibilities for your dream vacation. Here are some of the things you can use the gift card for:
• Set Sail on the Ultimate Adventure. Your gift card allows you to embark on a voyage of a lifetime, filled with thrilling water slides, mini-golf challenges, and zip-lining over the sparkling ocean. Get ready to experience non-stop excitement!
• Indulge in Gastronomic Delights. Treat your taste buds to a feast like no other. With your gift card, you can relish gourmet cuisine created by world-class chefs, savor the freshest seafood, and enjoy casual dining options that will leave you craving for more;
• Pamper Yourself in Paradise. Escape into a realm of relaxation and rejuvenation. Use your gift card to indulge in luxurious spa treatments, from soothing massages to revitalizing facials. Unwind and let your worries melt away as you immerse yourself in pure bliss;
• Explore Fascinating Destinations. The gift card opens the door to unforgettable shore excursions. Discover new cultures, embark on thrilling adventures, or simply soak up the sun on pristine beaches. With your gift card, every port of call becomes an opportunity for extraordinary exploration.
It's always better with Celebrity Cruises gift card!
Step on board and immerse yourself in a world of thrilling activities and entertainment. Whether you're seeking adventure or relaxation, Celebrity Cruises has something for everyone. Feel the adrenaline rush as you zip line high above the ocean, take a plunge down exhilarating water slides, or challenge your friends to a game of mini-golf with breathtaking views. If relaxation is what you desire, indulge in a rejuvenating spa treatment, soak up the sun by the pool, or simply unwind in your spacious stateroom with all the comforts of home. Experience the adventure of a lifetime with a Celebrity Cruises 250 USD gift card key. Embark on unforgettable journeys, indulge in exquisite cuisine, and unwind in luxurious accommodations. Book your dream vacation today and create memories that will last forever!
How to redeem a Celebrity Cruises gift card?
Here is how to redeem your Celebrity Cruises 250 USD gift card key:
• Once you've found the cruise you want, call 1-888-837-5676 to redeem your gift card.
Iba pang mga detalye
Petsa ng paglabas

Setyembre 11, 2019

Publisher

Celebrity Cruises

Mga developer

Celebrity Cruises