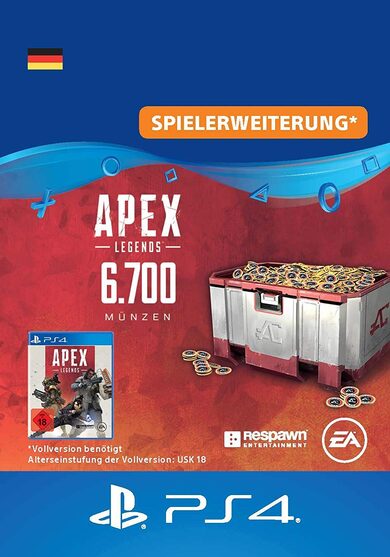 Apex Legends 6700 Apex Coins (PS4) PSN Key GERMANY
No se puede activar en Estados Unidos
Funciona en
Noticia importante:
For PS4 version of the game. Only works with GERMANY account.
Apex Legends 6700 Apex Coins (PS4)
Buy 6700 Apex Coins and revel in the freedom it brings. All the customization options are at your fingertips; get your favourite Legend a new skin, grab a few weapons for them to use and charge forward. Lead your teammates to victory and marvel at the special look your character sports, standing above the rest.
Rewards after rewards
Dedicate some of your funds to Battle Pass and enjoy the continuous flow of gifts. Each time you reach a new level as the season goes on, there will be a special prize waiting, a special present for all your efforts. Buy 6700 Apex Coins, purchase the Battle Pass and let the fun begin. And you won't be left alone in this endeavour. Battle Pass increases the exp gain, making your journey to the top all the easier.
And that's not all. With the Pass comes the mantle of exclusivity. You see, the seasonal rewards are one of a kind (so far), meaning that once the season ends, they will be gone. No other way to acquire them, unless you have a time machine. This adds a layer of rarity to the items, marking you as one of the players who reached for the gold before others did! Buy 6700 Apex Coins and get the most out of your game.
Random but rewarding
Apex packs are a great way to spend your coins. Sure, it's RNG based, but Apex tried to lend a hand in this regard. The packs have a percentage of rare or unique items that can appear out of the packs, as well as the reward system for those who open a certain amount of the packs – they get a guaranteed legendary item.
The packs also contain crafting materials. These can be used to make certain skins for your characters. The more materials you gather, the greater your customizable collection. Buy 6700 Apex Coins and see how well you can deck out your Legend. Add weapons to the mix and the Apex pack becomes a true gold mine.
Coins may also help you unlock certain Legends, so you don't have to grind for hours and just enjoy the gameplay. Basically, this premium currency opens all the doors for a more exciting and engaging experience.
---
Fecha de lanzamiento:
February 15, 2018
Desarrolladores
Respawn Entertainment
Publisher
Electronic Arts Inc.
---