Minecraft Legends - Windows Store Key GLOBAL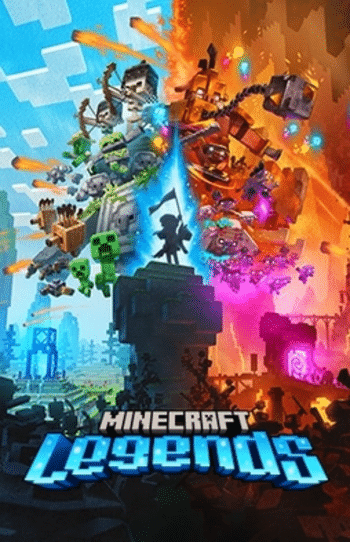 Minecraft Legends - Windows Store Key GLOBAL
Sdílejte to s někým, kdo by to chtěl!
Nejlevnější nabídka
Looking for good deals?
Get them delivered to your inbox
Available at checkout:
GlobálníLze aktivovat v

Spojené státy americké

Digitální klíč

Toto je digitální vydání produktu (CD-KEY)

Okamžité doručení
Recenze: 0
Popis produktu
Minecraft Legends
After becoming a global phenomenon, Minecraft's universe has expanded into other gaming genres. First, with a Diablo-like RPG, Minecraft Dungeons, and now, into an action strategy. Experience the next step of Minecraft's evolution with Minecraft Legends – an online co-op game where you and your friends are tasked to defend the Overworld from the piglin invasion. Buy Minecraft Legends Windows Store key and experience the fresh take on the legendary game!
Minecraft Legends game features
These game features make Minecraft Legends a unique spin-off of the legendary title:
• Action-strategy. Minecraft Dungeons closely resembles a real-time strategy game, so even non-Minecraft fans will find an enjoyable gameplay loop;
• Gather materials. The core feature of Minecraft is still present, but instead of spending hours to mine blocks, you can ask Allays to do it for you;
• Faster building. Any structure can be built in seconds, all you have to do is command your Allays;
• Develop your playstyle. Create different strategies by positioning your mobs – some are great at short-range combat, and others work best attacking from a distance. Find your winning strategy!
• Unique biomes. The world of Minecraft Legends is made from different biomes, some more dangerous than others, and each with its own resources;
• Procedurally generated maps. No playthrough will be the same – each time you'll play on a different map;
• Cheap Minecraft Legends price.
Dive into PvP!
After repelling the piglin invasion in an online co-op campaign, dive into the PvP, which tests your strategic thinking and cooperative skills. You and your friends will be able to face other players trying to take down their base or defend your own. Play according to what you like doing best. Hunt for building materials, fortify your fortress or devise a winning strategy. The turn of the battle is unexpected, and each player has to contribute towards achieving victory. In other words, in Minecraft Legends – one for all, all for one! So buy Minecraft Legends Windows Store key, gather your friends, and prepare for battle!
Systémové požadavky
Minimální systémové požadavky
64bitová podpora

Ano

Systémové požadavky

Windows 10

Procesor

Core i5 2.8GHz

Paměť

8 GB RAM

Grafika

NVIDIA GeForce GTX 780 / AMD Radeon 285 / Intel HD 520 / DX12 GPU

DirectX

12
Další podrobnosti
Jazyky

Angličtina

Francouzština

Italština

Němčina

Spanish - Spain

Datum vydání

18. dubna 2023

Vydavatel

Xbox Game Studios

Vývojáři

Mojang Studios / ‪Blackbird Interactive

Pracuje na