Max Payne 3 (Complete Edition) (PC) Rockstar Games Launcher Key EUROPE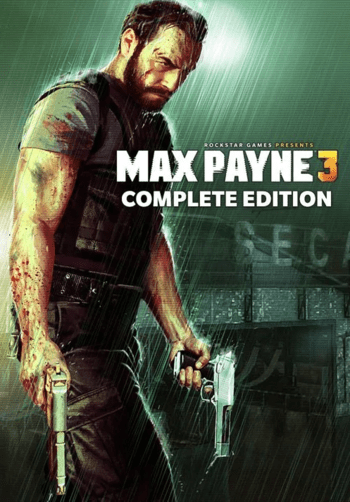 Max Payne 3 (Complete Edition) (PC) Rockstar Games Launcher Key EUROPE
Sdílejte to s někým, kdo by to chtěl!
Litujeme, vyprodáno :(
Chcete tuto hru? Až bude produkt opět k dispozici, můžeme vás upozornit e-mailem.
Oznámení
EvropaNelze aktivovat v zemi

Spojené státy americké

Zkontrolujte

Digitální klíč

Toto je digitální vydání produktu (CD-KEY)

Okamžité doručení
Recenze: 0
Mohlo by se vám také líbit
Popis produktu
Max Payne 3 (Complete Edition) Rockstar Games Launcher Key
Complete Edition includes:
Max Payne 3;
Deathmatch Made in Heaven;
Painful Memories;
Hostage Negotiation;
Local Justice;
Silent Killer Loadout;
Special Edition pack;
Deadly Force Burst;
Phil Bottle item;
Classic Max Payne character.
Rockstar Studios and Rockstar Games present the third installment of the legendary Max Payne series. The first game in the series was developed by Finish studio Remedy in 2001 and became an instant classic. The game told the story of police detective Max. One day his life changed dramatically. For unknown reasons, his family was brutally killed. The only thing left for the protagonist is revenge. From street hooligans to terrorists and elite drug corporation killers – everyone received his revenge. The second Max Payne game was released in 2003. It wasn't as straightforward this time. The game told a subtle and dramatic love story. One of the unique features of those games is a poetic, well-written comic-style story. At last, the time has come for the third game.
Max Payne 3 gameplay features
Get to know the main elements of Max Payne 3:
• Breath-taking action. A third-person camera perspective will ensure that you will experience the game uncomfortably close. There will be a lot of skirmishes;
• Dramatic protagonist. Max Payne is living the life, no one would like to live. Get to know this character and experience his tragedy like never before;
• Bullet-time. As in previous games, you can slow down time at any given time and watch bullets slowly flowing in the air;
• Realism. Max Payne games are known for their realistic approach. Characters are facing real-life struggles. MP 3 is not an exception;
• Violence. In this game, you can expect a lot of violence and blood. It's not suited for children;
• Made by one of the best studios. Max Payne 3 is made by Rockstar studios, which also made Red Dead Redemption and Grand Theft Auto;
• Cheap Max Payne 3 price.
Different protagonist
Max Payne 3 Rockstar Games Launcher Key was developed by the famous studio Rockstar. They are known for series, such as Grand Theft Auto and Red Dead Redemption. The new studio looked at Max Payne, as a protagonist, differently. Max Payne 3 Rockstar Games Launcher Key differs from other games in the series in many aspects. There is no dark, noir atmosphere, together with comic-style cut-scenes. Max is no longer a young and naive poet. Now he is tired of life. He works a simple job as a security guard. The game shows miserable everyday life. Alcohol and painkillers are the only things that keep him going. His deep and philosophical thoughts are translated in real-time, during the action, he doesn't want to wait for a cutscene anymore. Looks like, this time the most important thing for him is simply to survive.
Systémové požadavky
Minimální systémové požadavky
Systémové požadavky

Windows XP / Vista / 7

Procesor

Intel Dual Core 2.4 GHz / AMD Dual Core 2.6 GHz

Paměť

2 GB RAM

Grafika

512MB VRAM NVIDIA 8600 GT 512MB VRAM / Radeon HD 3400

Úložný prostor

35 GB

Další poznámky

Internet
Další podrobnosti
Jazyky

Angličtina

Brazilian Portuguese

Francouzština

Italština

Japonština

Němčina

Polština

Ruština

Španělština

Datum vydání

1. června 2013

Vydavatel

Take 2 Interactive

Vývojáři

Rockstar Games

Pracuje na