Crypto Voucher Bitcoin (BTC) 3 EUR Key GLOBAL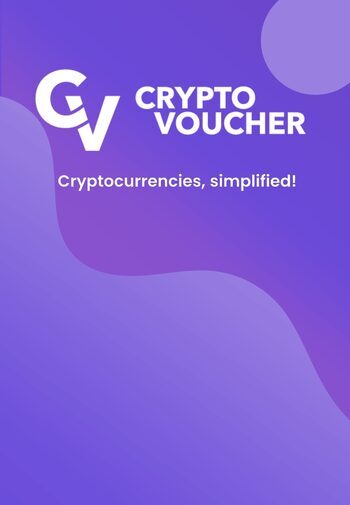 Crypto Voucher Bitcoin (BTC) 3 EUR Key GLOBAL
Sdílejte to s někým, kdo by to chtěl!
Litujeme, vyprodáno :(
Chcete tuto hru? Až bude produkt opět k dispozici, můžeme vás upozornit e-mailem.
Oznámení
GlobálníLze aktivovat v

Spojené státy americké

Digitální klíč

Toto je digitální vydání produktu (CD-KEY)

Okamžité doručení
Důležité upozornění:
This product has no pre-set expiration date. To redeem visit: https://cryptovoucher.io/
Popis produktu
Crypto Voucher Bitcoin (BTC) 3 EUR
Many consider crypto to be the currency of the future, and Bitcoin is the most popular among all cryptocurrencies. There are various methods to acquire Bitcoin. You can mine it, but for that, you'll need to invest in a powerful computer and have a lot of patience. Who wants to go through that? The simpler way is to buy it through various crypto trading websites directly. But the most simple and cheapest way to start your crypto investments is right here with a Crypto Voucher Bitcoin (BTC) 3 EUR key!
What is Crypto Voucher?
Crypto Voucher is a special gift card you can use to buy cryptocurrencies. If you're not the type of person who wants to go through the troubles of registering on various websites and buying cryptocurrency directly through a centralized exchange, simply buy Crypto Voucher Bitcoin (BTC) 3 EUR key! More than that, redeeming a Crypto Voucher can save you money, as direct payments usually have fiat to crypto exchange fees. That's why Crypto Vouchers are the easiest and cheapest way to start buying and investing in crypto instantly and securely.
What can you buy with a Crypto Voucher gift card?
Usually, with a Crypto Voucher, you can buy the most popular cryptocurrencies like Ethereum, Litecoin, Ripple, and other digital tokens. However, with thousands of currencies to choose from, sometimes it can get confusing which tokens to invest in. That's why Crypto Voucher Bitcoin (BTC) 3 EUR key can make purchasing crypto a lot easier. Forget about the currencies you've never heard of and invest in Bitcoin – the most popular and widely-used cryptocurrency. Crypto Voucher Bitcoin (BTC) 3 EUR key will make buying crypto fast, easy, and secure!
How to redeem Crypto Voucher card?
Redeeming your Crypto Voucher is fast, easy, and user-friendly. To activate your Crypto Voucher Bitcoin key, follow these steps:
Další podrobnosti
Datum vydání

1. listopadu 2017

Vývojáři

Fintegence s.r.o.