Red Dead Redemption 2 (PC) Green Gift Key GLOBAL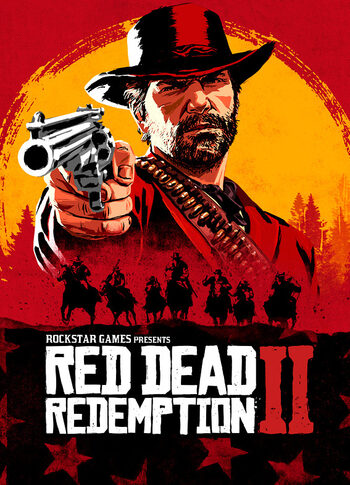 Red Dead Redemption 2 (PC) Green Gift Key GLOBAL
2 pessoa(s) a ver este produto
Compartilhe com alguém que gostaria disso!
Aviso importante:
To redeem code go to: https://www.greenmangaming.com/gift-redemption. Upon activation you will receive Red Dead Redemption 2 on Epic Games account. Make sure to follow instruction on how to redeem the key!
Os jogadores também viram
Avaliações: 12
Franhet

07/08/2021

Traduzido automaticamente

A Rockstar nos deu uma tremenda obra-prima, é magnífica em todos os aspectos, do visual à história, tem uma trilha sonora impecável e transmite muito

Nickman

11/11/2021

Traduzido automaticamente

Para mim, um dos melhores jogos para um jogador que já joguei. A atmosfera que o jogo transmite é simplesmente única. Definitivamente,

Juan

31/10/2021

Traduzido automaticamente

É uma alegria jogar. Se você tem um pc potente e pode permitir-se ir além, este jogo se torna algo de outro mundo graficamente, sem falar na jogabilidade.

Basobello

16/11/2021

Traduzido automaticamente

Mais uma vez, a Rockstar acerta o alvo. Um dos melhores jogos que já tive a oportunidade de experimentar, a turma holandesa dá emoções que raramente se experimenta em um videogame,

Wouter

13/09/2022

Traduzido automaticamente

Este é o melhor jogo já feito! Uma história incrível e belos gráficos! O online também é ótimo, mas não é minha praia.
Red Dead Redemption 2 (PC) Green Gift Key
Follow the steps to activate the game:
 1. Go to this website.
2. Log in / register a new account.
3. Enter your Green Gift in the code box and click "Apply"
4. You'll get a pop up showing details about the product you are redeeming. Click the "Redeem" button to continue.
5. Upon purchase, you will be asked to log in to your Epic Games account through an API which will grant you access to the game. 
6. You will be prompted to confirm the redemption of the game and on which account it will be redeemed. 
7. Once redeemed, your game will appear in your Epic Games account.


Developed by Rockstar Games, Red Dead Redemption 2 is a sequel to a western-themed open-world game of the same name first released back in 2010. Buy Red Dead Redemption 2 PC key and engage in another Rockstar provided gaming experience of an epic scale that is definitive for the contemporary decade of the gaming industry. As Red Dead Redemption 2 is coming from consoles to the PC platform it will introduce various changes and additions that expand upon an already jaw-dropping installment of this amazing Wild West franchise.
An epic 60-hour long campaign
Red Dead Redemption 2 features a 60 hour long single-player campaign of epic proportions. The year is 1899. You play as an outlaw named Arthur Morgan who grew up on the wrong side of the law. Buy Red Dead Redemption 2 PC key to join Arthur's amazing journey which takes place in an ugly time where outlaws like him are no longer welcome. The single-player campaign features everything from action-packed high stakes heists to engaging emotional moments of well-written character development.  
Rich with engaging side activities
Rockstar has built a reputation for being the masters of open-world video games and at its heart, Red Dead Redemption 2 is another jewel that adds to a great collection of games Rockstar has published over the years. In fact, it might just be the greatest pinnacle in this long line of groundbreaking titles.
Buy Red Dead Redemption 2 PC key to enjoy everything that a rich Wild West open-world sandbox has to offer. Even after you finish the massive campaign, you'll still be able to explore a world inhabited by a variety of NPCs and wildlife. You'll explore deserts, livestock towns, developing industrial settlements, alligator-infested swamps, snowy mountain peaks, dangerous caves and you'll enjoy all these activities in a world built with authentic Wild West atmosphere and staggering attention to detail.
The definitive RDR2 version
Buy Red Dead Redemption 2 PC key and get the best, definitive version of this amazing gaming experience. While Red Dead Redemption 2 shined on consoles, its release on PC a year later features multiple additions that expand upon what was an already large assortment of possibilities that were included within this game.
Unlike the console versions, Red Dead Redemption 2 will have a multiplayer mode ready right at launch, with Epic Games you'll be able to play it before its release on Steam! RDR2 will also feature visual enhancements such as improved lighting and textures, faster frame rates, HDR and 4K resolution support as well as multimonitor configuration. Buy Red Dead Redemption 2 PC key and you'll also receive new guns, Bounty Hunter missions, treasure maps, gang hideouts, horse types and many other expansions that make this version the truly ultimate one!
This item is sold by individual seller.
Learn more
Requisitos de sistema
Requisitos mínimos de sistema
Requisitos de sistema

Windows 7 - (6.1.7601)

Processador

Intel® Core™ i5-2500K / AMD FX-6300

Memória

8 GB RAM

Placa gráfica

Nvidia GeForce GTX 770 2GB / AMD Radeon R9 280 3GB

Armazenamento

150 GB
Requisitos de sistema recomendados
Requisitos de sistema

Windows 10 - (v1803)

Processador

Intel® Core™ i7-4770K / AMD Ryzen 5 1500X

Memória

12 GB RAM

Placa gráfica

Nvidia GeForce GTX 1060 6GB / AMD Radeon RX 480 4GB

Armazenamento

150 GB
Outros detalhes
Idiomas

Alemão

Espanhol

Francês

Inglês

Italiano

Polaco

Data de lançamento

5 de novembro de 2019

Editor

Rockstar Games

Produtores

Rockstar Games

Funciona em