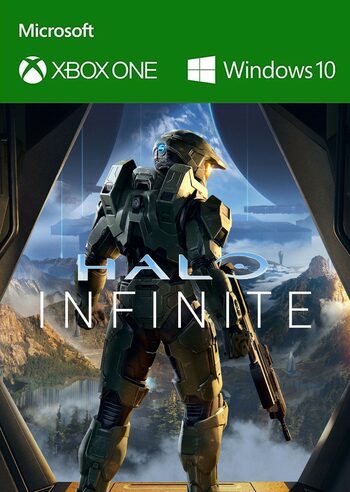 Halo Infinite - 30 min 2EXP Double XP (DLC) Official Website Key GLOBAL
Compartilhe com alguém que gostaria disso!
Aviso importante:
Consumer must have a Microsoft account in order to redeem code. Double XP for Halo Infinite promotion code must be redeemed at www.halowaypoint.com/redeem by 3/31/22. 60h maximum DoubleXP per person.
Outras pessoas também viram
Avaliações: 0
Descrição do Produto
Halo Infinite - 30 min 2EXP Double XP (DLC)
30 min Double XP and In Game Loot (DLC) includes:
•

30 min Double XP;

•

Monster Energy weapon skins;

•

Monster Energy emblems.
The cult classic Halo series returns with the ultimate and most expansive Master Chief campaign to date! 343 Industries and Xbox Game Studios present Halo Infinite, the much-awaited instalment of the legendary FPS sci-fi series. Humanity's greatest hero must prove his mettle once again as our civilization faces one of its biggest threats yet. Donn the armour of Master Chief, explore the massive scale of the Halo ring and come face to face with the most ruthless foe of the whole series. Buy Halo Infinite PC/Xbox key and start an epic journey!
Halo Infinite gameplay features
Walking in the shoes of Master Chief is tough business, especially since the fate of humanity rests upon your shoulders. Thankfully, the adrenaline-fueled action is all the more fun thanks to the features included in the Halo Infinite key:
• Legendary multiplayer. The fan-favourite mode is now completely reimagined and free to play - enjoy seasonal updates, unique events, new modes and maps, all focused on improving your community experience;
• Arena action. Partake in the ultimate arena-shooter fun as you battle against others in 4 players squads;
• Team skirmishes. Enter the chaotic yet captivating Halo sandbox, made possible by the rich variety of weapons, vehicles, and equipment - big-team mayhem is just right around the corner;
• Expansive customization. Discover or earn various cosmetic items and make your Spartan warrior uniquely you;
• Cheap Halo Infinite price.
A next-gen experience
With a completely revamped multiplayer experience and a gripping narrative with humanity at the brink of extinction, the Halo PC/Xbox key offers heightened gameplay for all kinds of players. Dive into lively multiplayer action where both your teammates and opponents are bound to cause complete chaos or take the chance to become the saviour of our civilization in the extensive campaign mode. No matter the choice, plenty of weapon, vehicle, equipment and customization options await all Master Chiefs and Spartans!
Outros detalhes
Língua

Data de lançamento

1 de setembro de 2021

Distribuidora

Xbox Game Studios

Desenvolvedores

343 Industries